The Julius Baer Gold Cup (Dubai Open), the UAE's premier polo tournament, will take place from Friday, February 19, 2016 to Friday, March 11, 2016. A record number of teams will vie for this year's title.
The Julius Baer Gold Cup (Dubai Open), an 18 goal handicap competition, is part of the Gold Cup Series. It immediately follows the McLaren Cup 2016. The event is held under the patronage of His Highness Sheikh Maktoum bin Mohammed bin Rashid Al Maktoum, Deputy Ruler of Dubai. The tournament, played under HPA rules, is now in its seventh year. It has grown significantly since inception.
Mohammed Al Habtoor said, "Each year the event gets better and better. This year we are proud to host nine strong teams, so the competition is going to be very tough."
The event is played at the Dubai Polo & Equestrian Club in the Arabian Ranches.
Commenting on the Bank's sponsorship, Daniel Savary, Head of the Sub-Region Middle East at Bank Julius Baer said: "We are proud to continue our partnership with the Dubai Polo Gold Cup Series in 2016, the UAE's most prestigious equestrian event. Throughout our long lasting heritage spanning 125 years as the leading Swiss private bank, we have championed values like innovation, consciousness of tradition – all traits that are recognisable elements of the polo's dynamics. As an organisation which strives to deliver high quality performance and excellence, understanding our clients' evolving needs is our unique differentiation in the market both locally and globally. And as such, we continue to reaffirm our affiliation with polo and associate our brand with leading cultural events that are valued by the local community and our clients. Such events enable to us reiterate our commitment to the Middle East and the UAE in particular as they form part of the Bank's core strategic priorities in terms of capturing strong wealth creation dynamics here."
Winners of the Julius Baer Gold Cup will be awarded with an iconic timepieces worth half a million dirhams, while Subsidiary Cup winners will receive a Bentley car for the period of one month.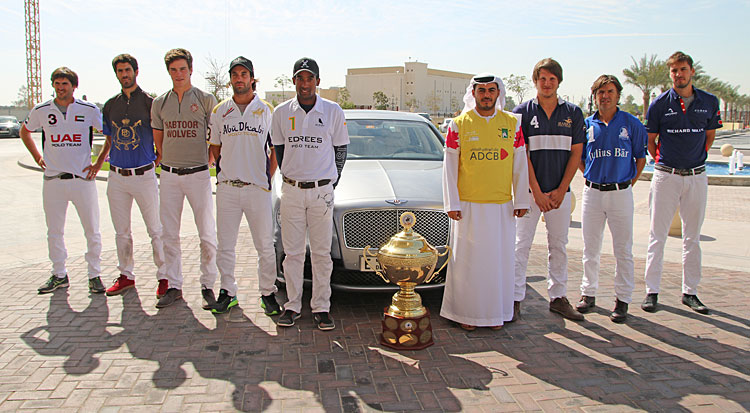 The teams include:
• Abu Dhabi Polo Team: Patron Faris Al Yabhouni
• Bin Drai Polo Team: Patron Saeed Bin Drai
• Edrees Polo Team: Patron Sultan Edrees
• Ghantoot Polo Team: Patron HH Sheikh Falah Bin Zayed Al Nahyan
• Julius Baer Polo team by Habtoor : Patron Mohammed Al Habtoor
• Mahra Polo Team: Patron Rashid Al Habtoor
• UAE Polo Team : Patron Her Highness Sheikha Maitha bint Mohammed bin Rashid Al Maktoum
• Wolves Polo Team: Patron Ahmed M Al Habtoor & Khalaf Rashid Al Habtoor
• Zedan Polo Team: Patron Amr Zedan