Polo, polo and more polo – right in the polo heart of Argentina, an all-round polo programme that leaves no wish unfulfilled awaits guests at La Tarde. From stick & ball and sticking cage training to detailed discussions on tactics right up to club chukkas and tournaments – at La Tarde, guests can live and breathe their polo passion and vastly improve their game. It's not for nothing that La Tarde's motto is "As much polo as you can take". Each guest sits in the saddle for at least four hours a day (and longer if they wish) and is trained intensively and individually by three professional polo players.
"In order to offer each guest an effective polo training you need to know what his or her deficiencies are," says owner and professional polo player Juan Martin Sarli about the training concept. "Each guest has different strengths and weaknesses. We analyse these in depth and create an individual training plan for each guest. Our aim is to get guests to improve their polo game at La Tarde. Furthermore, we want them to feel comfortable. At La Tarde we have 120 polo ponies to suit each guests requirement."
Four to six chukkas are played every day. Trainers place particular importance on making sure that all guests are 100 per cent involved in the game and ensuring that they put what they learn from stick & ball exercises into practice. In order for guests to gain tournament experience, the club organises a tournament every week with players and clubs from the local area. "With us, they learn what polo is and how it's played," says Juan Martin Sarli. "With polo, it's not just about smashing the ball into the goal, but you've also got to understand and be able to read the game."
Those who take a polo holiday at La Tarde quickly realise that this is no ordinary club. The Sarli family manage the club with love and passion. At La Tarde, guests aren't strangers, but a part of the family and thus get the opportunity to fully immerse themselves in the Argentinian lifestyle. Juan -Martin Sarli: "La Tarde is a family-run business. That's a huge advantage. On the one hand, it's great to work with family. And the other aspect is that we can always communicate openly and honestly with one another." Longevity is an important key concept here: "A family business isn't about quick profit, but about building something for the next generation. Horse breeding is also a long-term investment. They go well together."
The La Tarde polo family is constantly growing. It's not just private polo fans who value the broad-ranging polo offer, individual support and dream location – but more and more university teams (mainly from England and the USA) are discovering the club as a training location. The polo teams of the British Army and Navy also regularly train here. The club's own breeding programme is also very well received. Juan Martin and his father Alfredo have bred polo ponies for many years, and 20-25 new foals are added every year. Guests also benefit from the breeding programme. They can buy embryos that are then reared and trained at La Tarde. Guests can then either take their horses home or have them looked after at the club.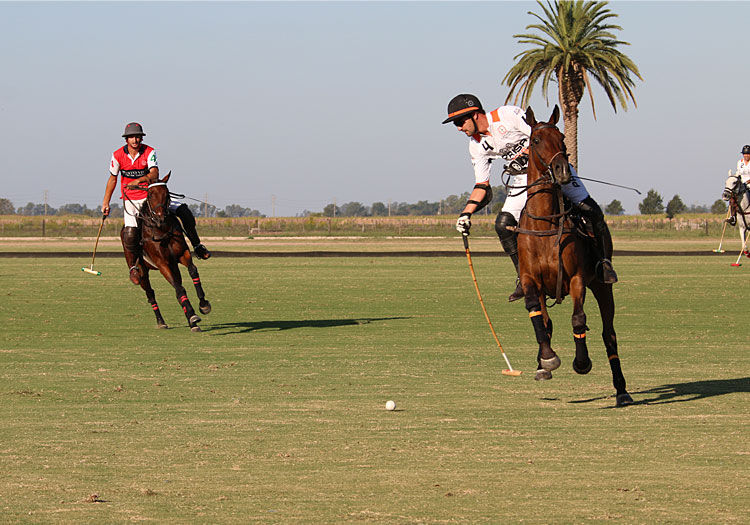 Families and non-polo players also enjoy their time at La Tarde to the full thanks to its comprehensive leisure programme. This includes trips to Buenos Aires, polo tournaments (e.g. Palermo, Hurlingham and Tortugas Open) and Pilar for polo equipment shopping (customised polo boots, polo sticks, stick bags, saddles etc.) and to famous polo clubs (e.g. Ellerstina Polo Club). There are also riding courses and hacks through the country side as well as lots of group activities. The two pools also help guests to relax and have a wonderful view of the pitch. What could be nicer than relaxing in the sun while the others slave away during training?
The La Tarde Polo Club is already one of the most beautiful locations for polo holidays in the Buenos Aires region. In order to offer guests even more opportunities and a bigger variety to choose from, the club has grand plans. Only recently two of the three polo fields have been expanded to full-size pitches, an arena built and the polo fields equipped with new boards. But this won't be the end to the expansions and improvements: in 2016, not only will the freshly renovated rooms be made bigger, but the stall complex will also be increased in size. A new Matera will also be created (a room in which Mate is drunk in good company) – a chillout area that invites guests to relax and socialise, complete with a library, a terrace with view of one of the polo pitches and comfortable sofas and tables.
There are also plans to supply the club with solar energy in future – another step in the direction of 100% sustainability. "We want to give something back to the environment," explains Juan Martin Sarli. "We already take sustainability very seriously and we plant trees every year, for example. Our aim is to become 100% sustainable within the next few years." By the way, the best time for a polo holiday at La Tarde is between October and the end of April. This is when the weather is nicest and there are lots of polo tournaments taking place. So head for the no. 1 polo country – the place to be for any polo enthusiast.
About La Tarde Polo Club
Much space, flat plains and the best polo locations and polo ponies in the world – the Buenos Aires Province is without a doubt the ultimate polo hotspot across the globe. Whoever comes here for polo holidays, to train his or her polo skills, is in good company and right in the middle of the world of Argentinean polo. One of the most beautiful polo locations is situated only one hour's drive from Buenos Aires and 30 minutes from Pilar: the La Tarde Polo Club.
The estate covers 180 hectares and includes three first class polo fields, 1 arena, 120 polo ponies, 60 horseboxes and two Sticking Cages. In addition the club offers its guests a luxury clubhouse, 12 private cottages, two swimming pools, sauna, gym and spa as well as a bar and a gift shop.
Contact:
Phone: (0054) 11 4798-9231
Email: info@latardepolo.com
www.latardepolo.com
Gallery:
[nggallery id=799]