Last Friday, the tournament magazine for the Berenberg Polo-Derby at Hamburger Polo Club went to press. For the team of POLO+10 this was a historic moment. Why? Because this Berenberg magazine is the 100th issue of POLO+10. 10 years – 100 publications. We are a little proud and wish all our readers and polo fans a sensational season in 2014.
On the occasion of the 100th issue we spoke to Karsten Wehmeier, Managing Director and Head of Corporate Communications at Berenberg and our long-time partner: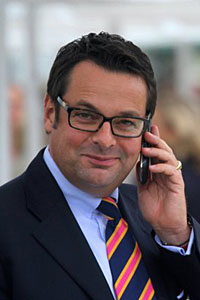 The tournament magazine for Berenberg Polo-Derby in Hamburg is going to be the 100th issue of POLO+10. How long does Berenberg already work together with POLO+10?
Karsten Wehmeier: Roughly speaking we have worked together very successfully even before the first edition came out. That is to say that we attended the development of POLO+10 and together acquired the pilot.
How has Berenberg's commitment for polo has developed in the past 10 years?
Karsten Wehmeier: When we sponsored our first tournament in 2001, there were maybe a handful of major tournaments in Germany. For the season 2014 we have published a tournament calendar, together with POLO+10. For Germany there are 78 (!) events listed! Berenberg is now represented with five tournaments in Germany, which bear our name or which we support as presenting sponsor. These are our three tournaments of the German Polo Tour in Hamburg, Düsseldorf and Oberursel as well as the Emotions Polo Cup in Stuttgart and the Fürstenberg Cup in Donaueschingen. Polo has a high priority in our marketing communication, and our customers are also enthusiastic about the sport! All considered we invite almost 1,500 guests to our tournaments per year.
Today, POLO+10 is the biggest polo magazine worldwide. What do you like about the magazine?
Karsten Wehmeier: Polo marketing isn't that easy. There are only few countries with fixed teams which can be followed by fans during the season. Also for television, polo is a difficult form of sport. POLO+10 provides an informed report about the worldwide major sporting events as well and sometimes about more exotic polo places. Moreover its design and content is also interesting and fun for polo laymen.
Why are continuity and reliability so important – both in sport and in teamwork with sponsors and media?
Karsten Wehmeier: Just as the horse and rider have to get used to each other, also the protagonists have to find to each in another in a sport like polo – active players, organizers, sponsors, specialised press. Many companies have already tried to use polo for their marketing. I think that you can only be successful if you show consistency and as a sponsor also participate actively and assemble and maintain good contacts. To see a sport only as a marketing platform is not a partnership.