Team Royal Pahang Polo Club from Malaysia made it to the very top winning the 12. Thai Polo Open at the Thai Polo & Equestrian Club in Pattaya with 6 – 4,5 over Brian Xu's Axus polo team. Prince Amir and Prince Muhammad playing alongside Tomas Gandara, who was awarded Most Valuable Player, and 7-goaler Tomasito Fernandez Llorente featured a fast match and put pressure on their opponents from the very start. Both Royal Pahang's Princes played excellent and profited from their improved horsepower. By the third chukka they took a lead of 6 – 2,5, received a setback of some Axus goals in the final chukka but finally took home their first win in the Thai Polo Open in thirteen attempts. Congratulations to this young and pleasant team who is featuring the game of polo with power and lots of fun.
In the subsidiary final, Mohamed Moiz's Team La Famila from China defeated Team Fast Fish, also a Chinese-led team by patron Windson Rao, by 9 – 5. The encounters had already played against each other in a qualifying match. But in the game for the third place La Familia left no doubt that they are the superior team regarding pace and precision including highly dangerous actions in front of the rival's goal this time.
Surprisingly, 2016 winners Team 22BR and the champions of the RMPA International League for four consecutive years, Team Thai Polo, failed to qualify for the semi-finals and played the "B. Grimm Anniversary Cup" under the royal eyes of Her Royal Highness Princess Sirivannavari Nariratana who attended the Thai Polo Open 2018 personally. With a final result of 2 – 2 the two teams share the 5th place.
The final day of the Thai Polo Open 2018, which is the most important polo tournament in Southeast Asia was accompanied by a great and elegant social and equestrian event, coronated by the royal presence. Hundreds of guests and celebrites fro all over the world as well as broadcasting stations and international press attended the chukkas and enjoyed a wide variety ofshopping booths and activities fort he whole family as well as a superb international lunch buffet.
Nunthinee Tanner and Harald Link, co-owners of the Thai Polo & Equestrian Club and Vice-/President of the Equestrian Association in Thailand once again set up one of the most elegant international polo tournaments which ended in an exclusive pool cocktail party with a great firework over the palmtrees.
5. Place Match (Friday): Thai Polo 2-2 22BR
3. Place Match: La Familia 9-5 Fast Fish
FINAL: Royal Pahang 6-4.5 Axus
Ranking of teams:
1. Royal Pahang
Score Final: HH Tengku Muhammad 0, HH Tengku Amir Nasser 1 (1 goal), Tomasito Fernández Llorente 7 (4), Tomás Gándara 5 (1).
2. Axus
Score Final:Brian Xu 0 (2 goals), Damián Marcos 3 (1), Diego Gómez 3, Dario Musso 6 (1).
3. La Familia
4. Fast Fish
5. Thai Polo
5. 22BR
Umpires: Daniel Boudou and Juan José Díaz Alberdi
MVP: Tomás Gándara
BPP: Tinta One. Owner: Brian Xu. Played by Darío Musso
Teams: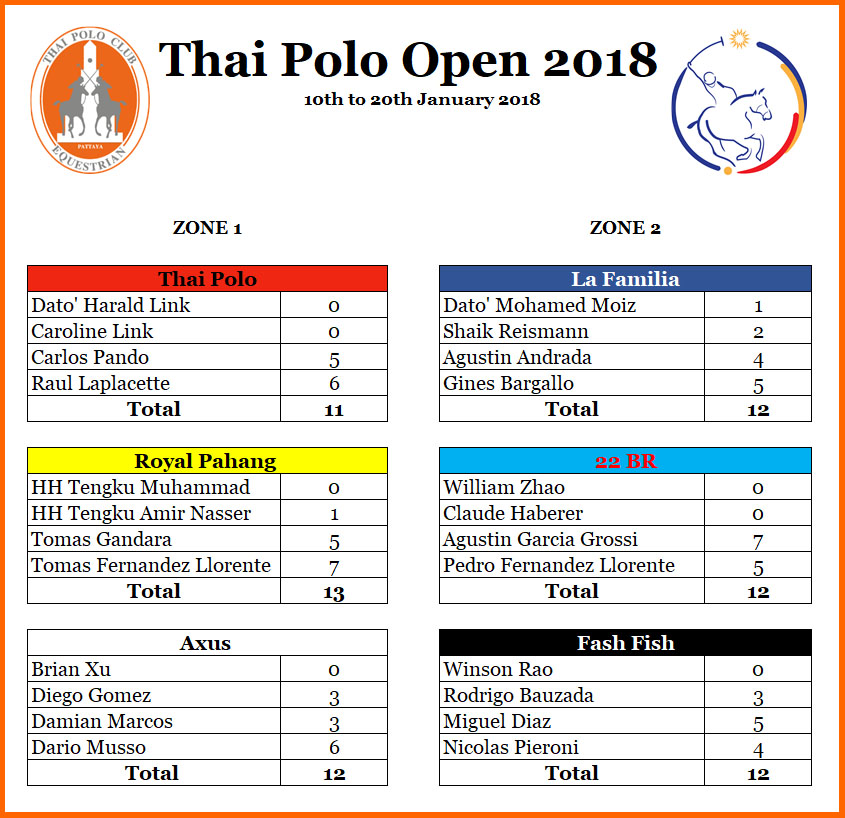 Photo: Thai Polo/Dominic James