Organic cosmetics instead of Botox syringes? In combination with hyaluron, spilanthol (botox) works wonders: the plant substance immediately smoothes expression lines and gives a refreshed and radiant appearance. Nikki Benett has developed her active ingredient cosmetic series Spilanthox therapy.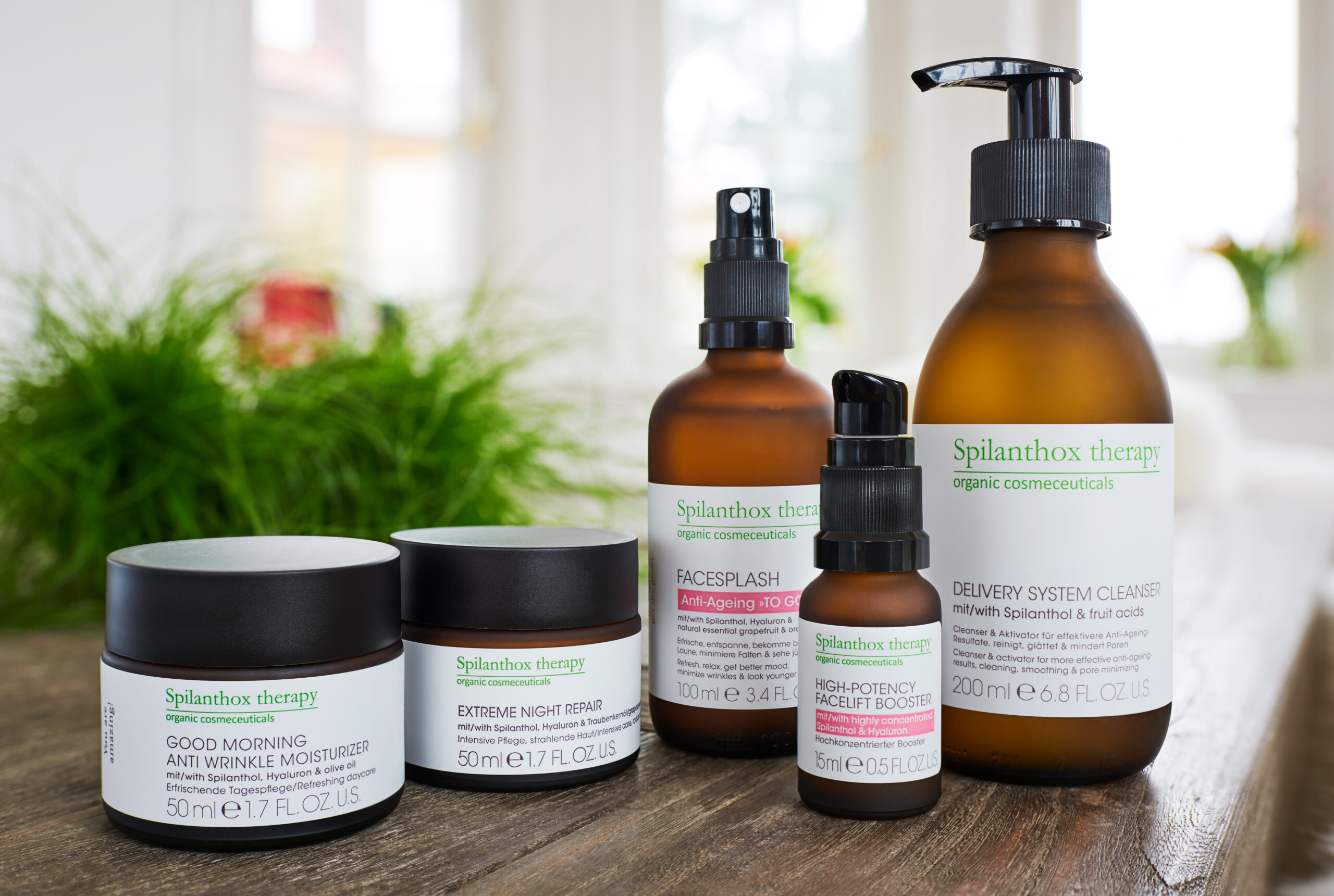 copyright: Nikki Benett
Interview with Nikki Benett:
You say that the products of Spilanthox therapy are a revolution in the field of natural anti-wrinkle care! Why is that so?
Spilanthox therapy is the first treatment to contain high doses of pure medically isolated Spilanthol. It thus provides a direct light lifting effect, immediate facial smoothing and a more even complexion in a natural way. A natural active ingredient cosmetic that really works. And which is a genuine, purely natural alternative to Botox.
What is Spilanthol and how does it work?
Spilanthol, an active ingredient derived from paracress (Acmella Oleracea), relaxes muscles and acts as a natural anaesthetic. This is why it is extremely effective against expression lines and first wrinkles. At the same time it improves the firmness and contractility of the skin. This effectively delays the aging of the skin.
What else do Spilanthox therapy products contain?
Medically isolated Spilanthol and an Acmella Oleracea extract in high dosage as well as low and high molecular hyalurone- this is concentrated anti-wrinkle power. Spilanthox therapy is Bio-Botox at an extremely affordable price. You look more relaxed, smoother and youthfully fresh. We also work with substances such as grape seed oil, almond oil, olive oil, phyto-squalane, vitamin C and natural scented oils from orange and grapefruit.
How did you discover and further develop the active ingredient spilanthol?
Since my childhood I have been fascinated by nature, which apparently has a solution to every problem. My grandmother taught me how to make creams and healing tinctures from herbs. Because I was very allergic to anaesthetics, among other things, after a very serious illness, my dentist treated me with Spilanthol, a local anaesthetic. This was the first time I was made aware of this active ingredient.
And what happened next?
After the illness I intensively studied biochemical processes in the body, natural raw materials, herbs, plants and holistic medicine. Through Spilanthol I then found highly exciting research studies from England and the USA and worked my way further into the topic. After that, everything was clear to me. In the research series, subjects were treated with 2% spilanthol-containing products. With outstanding results: Hanging cheeks disappeared, facial expressions relaxed, wrinkles were ironed away. The way it works is terrific. Our products even contain 5% spilanthol, which is more than twice the amount.
And the Spilanthox therapy care series was developed from these findings?
Yes, I have invested the following one and a half years in laboratory work and product development. Since October 2017 the products are exclusively available in selected drugstores, perfumeries and at amazon. The raw materials come from Germany, Austria and France. Production takes place exclusively in Germany. Spilanthox therapy is based exclusively on natural ingredients and is produced without animal testing.
Where do you stand today?
Our first "baby" from the green laboratory is already enjoying great popularity and is about to make its international breakthrough. To date, our products are only available within Europe. But not only this groundbreaking natural cosmetic series was created, but also the Nikki Benett Green Group in Hamburg, with a team of people who have their hearts in the right place and who had the same visions for the future. A "green life", in harmony with nature and a healthy looking, attractive body with an ageless, radiant face and a soul that smiles.
www.spilanthox.com