Sweeping the International Arena Showcase, USA defended two international titles over two consecutive days at New Bridge Polo & Country Club in Aiken, South Carolina. Taking the USPA Armed Forces' Churchill-Roosevelt winning momentum into the John R. Townsend Challenge Cup, after a one-day rain postponement, on Sunday, October 10, USA (Pelon Escapite, Geronimo Obregon,* Winston Painter*) once again topped England (Julian Daniels, Eden Ormond, Robin Ormond) to add an eighth American engraving on the prestigious Townsend Cup and another title to their 8-1 distinguished international record. As the official apparel sponsor of Team USA, U.S. Polo Assn. proudly outfitted both American teams with jerseys and saddle pads.
"Man, they're rough! England is always rough. My experience playing against them is always intense. It's tough to go around them and you've got to go through them, it's hard. They're competitive."  – Geronimo Obregon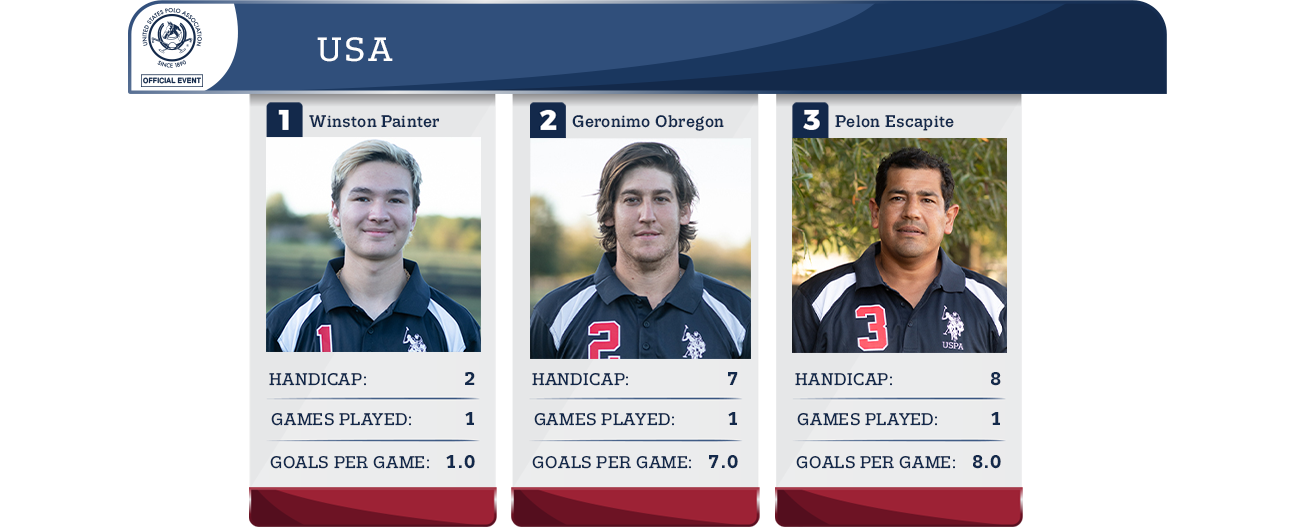 To open the first chukker, defending Townsend Cup Champion and team captain Pelon Escapite quickly put USA on the board with a two-pointer in the first few seconds of play. Sensing the intensity from the beginning of the match, Escapite was aware of USA's giant expectations. "It's big pressure," said Escapite. "We can't lose in-house. It's always more pressure to play [here] than away." Brothers Robin and Eden Ormerod responded in kind for England, each contributing two goals in the first, including a two-pointer from Eden Ormerod. The offensive talents of Geronimo Obregon, who proclaimed himself as not having as much experience in the arena as his teammates made the difference in the first chukker scoring a total three goals.
Obregon attributed his solid start to Mamba a small 11-year-old thoroughbred chestnut mare who, "helped me a bunch, she passed, she stopped, she did everything." English captain Eden Ormerod scored first in the second, Robin Ormerod adding a goal as well—the brothers working in tandem once again. However, a united American front in Escapite and Obregon found the goal three times, and a Penalty 1 gave USA the edge heading into halftime with a 10-8 lead.
Feeling the rising intensity of the game and not willing to rely on a marginal advantage, USA with coach Tiger Kneece implemented a new tactical strategy for the second half where Obregon would, "switch a lot with Pelon, and Winston [Painter] pushed forward. We rotated a lot and we rotated well. When [Pelon] would push forward, I would stay back. When I would push, he would stay back. We changed the momentum a few times." This ability to affect the pace of play would allow Escapite to score two more two-pointers in the third.
Painter, a representative for USA in the 2018 Junior Olympics and star in youth polo including the National Youth Tournament Series and Interscholastic/Intercollegiate program normally does not play in the number one position but relished the opportunity, "in interscholastic, I always play back. It was refreshing to have a change of roles. I know both Geronimo and Pelon and I was really happy to share the field with so much wisdom and experience today."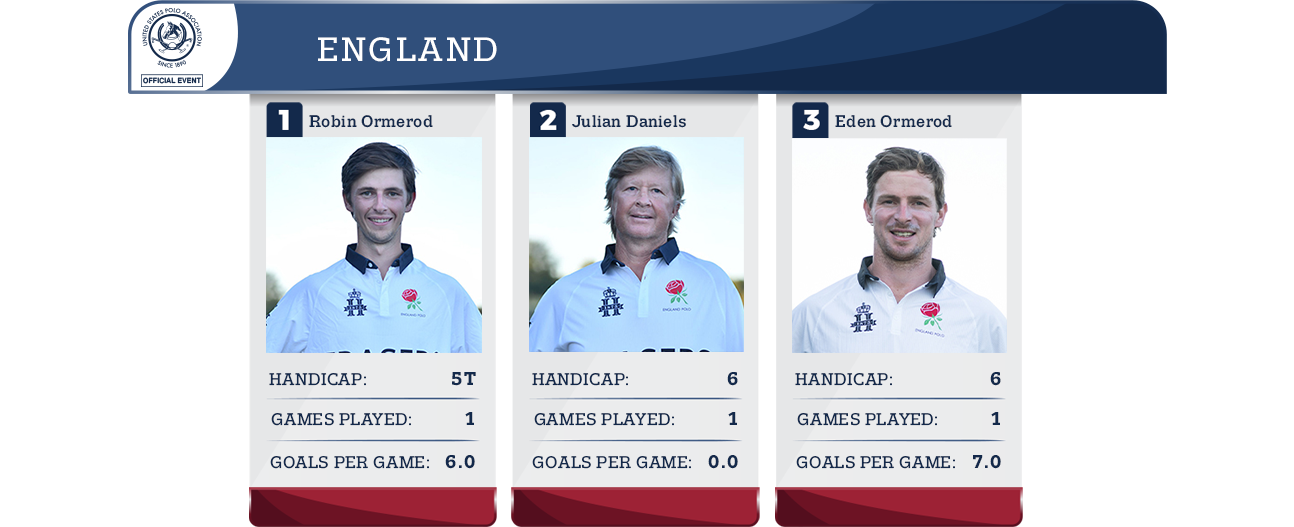 Unwilling to back down, England continued to battle in the third scoring six goals, including a two-pointer from Robin Ormerod. Hailing from Druid Lodge Polo Club in Salisbury, Wiltshire, both Ormerod brothers spent their formative years playing arena polo, "we have a really nice arena surface at home [Druids Lodge]. In England we play in the winter when the grounds are too soft." For Eden Ormerod reconnecting in the arena with his brother was a welcome change, "we play together on the grass quite a bit, but it's been a while since we've played in the arena."
USA entered the final chukker with a slim one-goal advantage and relied on success from Obregon once again scoring back-to-back goals at the onset of the chukker to provide USA some much needed breathing room. Eden Ormerod was aware of the challenge required to take down USA. A member of the 2018 English team and last to defeat USA in the Bryan Morrison (a complimentary tournament held by English invitation) commented on the intense competitive nature between the two nations, "they pushed us, and I hope they feel we pushed them as much."
The English captain came through for his team once again and scored the only goal for England in the fourth. Painter also knocked in his first of the game and as the final seconds expired the crowd went wild with chants of "U-S-A," and the Americans could finally look to the scoreboard knowing they would emerge from the battle the victors and eight-time Townsend Cup champions with a final score 18-15.
Scoring a total of eight goals for USA, Pelon Escapite was named Most Valuable Player. In addition to his offensive abilities, Escapite's toughness was also on display. Escapite was temporarily dismounted in the fourth. "My mare went left, and the ball was on the right. I really wanted to score but I stretched a little too much," he recounted. Despite feeling a "little sore," Escapite's resilience and humility were evident as he commented on his performance, "we got lucky today! I scored a few two-pointers, and two is better than one."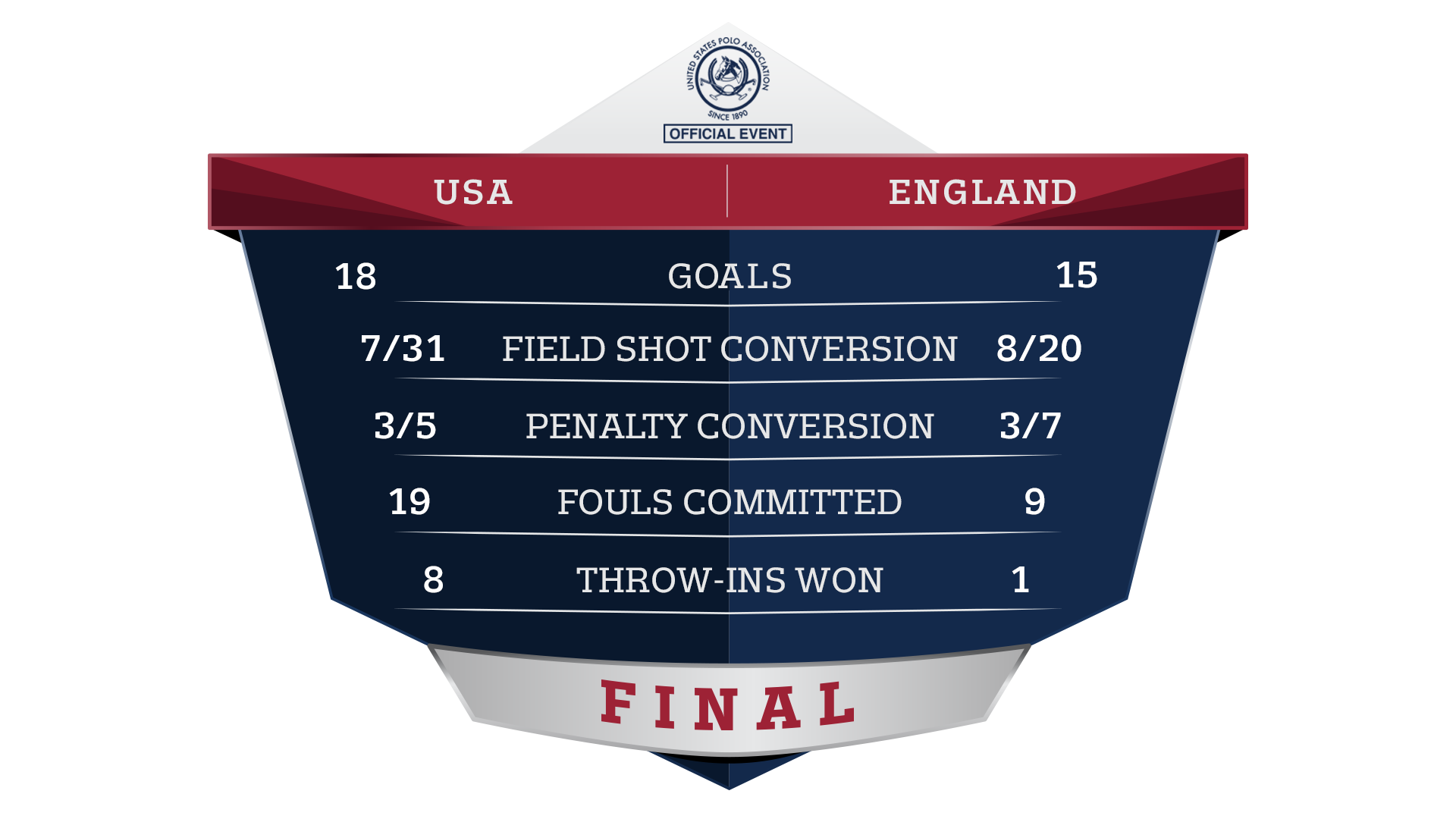 Best Playing Pony honors were presented to Samurai, a thirteen-year-old Mexican thoroughbred played by Eden Ormerod in the first half of the first chukker and the second half of the third. Ormerod was extremely impressed with his abilities, "he's super tough, keeps trying for you [and is] super steady and you can always depend on him." Owner Liv Berube purchased the grey gelding from Lord Lyle in Florida two years ago. Berube could not have been happier for Samurai, "he plays for me, he plays for my polo school, he's such a good boy. He really shines in the arena."
With the second consecutive sweep of the International Arena Showcase complete, Obregon is no stranger to winning international titles. As one of the rare players to win both the Townsend Cup and the Westchester Cup (the outdoor version of the competition), Obregon reflected on the honor of winning another prestigious tournament, "it means a lot. This is the first time I've represented [USA] in the arena. We wanted to win and wanted to represent the U.S."
Similarly, Painter commented on the pride behind the celebration, "arena polo has been a huge part of my youth polo career, my first time playing polo was in the arena. [Learning] how important and amazing this opportunity was, I was humbled and grateful to be selected." Eden Ormerod who has represented England on numerous occasions shared his gratitude, "it was a good game, they scored some good two-pointers, we missed a few penalties. They had some good horses, but we had some good ones too. It was a great exhibition of polo."
Photos: ©Larry Johnson