All articles loaded
No more articles to load
For players only: The biggest players data base in the world. Subscribe now and receive invitations to polo tournaments all over the world.

+10 WORLD: POLO CLUBS & TOURNAMENTS
POLO+10 PUBLISHES YOUR TOURNAMENT MAGAZINE!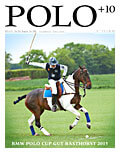 Would you like to have your own magazine for your tournament?
Feel free to contact us!
POLO+10 produces your tournament magazine.