Making their debut in the second annual 2020 Women's Pacific Coast Open at Santa Barbara Polo & Racquet Club (Carpinteria, California) La Herradura joined three returning teams, Dundas, Timing and Polo Gear/Coffee Company, but proved to be a step ahead of their opponents in the final on Sunday, September 6. After narrowly defeating Dundas in the semifinal, La Herradura used efficient 55% shooting from the field and three goals from Meghan Gracida to defeat Timing 7-4 and capture their first Women's Pacific Coast Open title.
"We watched Timing play a very strong game in their first match. Our plan was to try and shut them down early, be quick in the transitions and use all four members of our team. We were also very fortunate to have Memo [Gracida] as a coach and I was spoiled to play La Herradura's horses." – Izzy Parsons
Played at the 18-goal level, the elite level of women's polo was on full display throughout the weekend, culminating with the performance of La Herradura (Suzette Yamani, Meghan Gracida, Izzy Parsons, Dayelle Fargey) against Timing (Nicole Ball, Mia Bray*, Mia Novillo Astrada, Sofia Lorenzo). A quick start for La Herradura saw them hold the possession advantage in the first chukker as Parsons opened the scoring with back-to-back field goals on a gelding named Elvis, giving La Herradura the 2-0 lead. The beginning of the second chukker saw La Herradura extend their lead to three on Gracida's first goal of the game, taking advantage of extra possessions and shot attempts at goal. Timing brought the deficit back to just one by halftime, converting both shot attempts on field goals from Mia Novillo Astrada and Sofia Lorenzo. La Herradura led headed into the second half 3-2.
The well-rounded La Herradura attack began the second half strong, restoring their three-goal advantage, led by Suzette Yamani contributing a goal in the number one position. Gracida's second goal quickly put Timing on their heels as they were in need of an offensive strategy in order to challenge Timing over the final chukkers of the game. "Our strategy headed into the final was to put pressure on Timing and really mark the man," Gracida said. "Sofia Lorenzo and Mia Novillo Astrada like to play the ball and turn it rather than hit backhand so we tried to capitalize on that and really mark our man." Before the end of the third, Mia Bray found her stride, cutting the lead down to two with just one chukker remaining. The intensity increased in the fourth as pressure was applied on both sides of the ball, but Fargey's Penalty 3 conversion extended the lead and landed all La Herradura teammates on the board. Answering back for the second time, Bray kept Timing in the game by maintaining the gap. An impactful player in the game, Gracida provided to be the answer the La Herradura needed with her third field goal which sealed the victory 7-4 and the 2020 Women's Pacific Coast Open trophy.
Playing in the Sunny Hale Invitational a week prior, the tournament proved to be good preparation for the Women's Pacific Coast Open. "This is a huge win for myself and for our organization since we are now based here in California," Gracida said. "I didn't have the opportunity to play in the inaugural Women's Pacific Coast Open last year so I made it a goal of mine to put a team in this year and I was very determined to get organized so we would win. We worked very hard before we got to this point and it was with the help of Memo's [Gracida] amazing organization La Herradurra and the horses."
Most Valuable Player was presented to Dayelle Fargey. "She completely deserves to win MVP," Gracida said. "She played so well and was the true leader on the field. I'd argue that she is the best U.S. women's player."
Best Playing Pony honors were awarded to Galguita (Galgo x Lechuza), a homebred grey mare owned by Patagones Polo Team and played by Mia Novillo Astrada in the third chukker. "She was very comfortable, fast, powerful and has a really good mouth," Novillo Astrada said. "Also she is great in the ride off and I really enjoyed playing her." "She was bred by my brother Carlos Avendaño and now Gonzalo [Avendaño] owns her," Anita Avendaño added. "Galguita's dam Lechuza was an Argentine Thoroughbred which Carlos played in high goal in Argentina including the Copa Cámara de Diputados. In the U.S. she has also played in the Silver Cup®, Ylvisaker Cup, C.V. Whitney Cup and USPA Gold Cup®."
Originally from Kenya, Izzy Parsons was happy that her international trip paid off. "I've played in a number of tournaments in the U.S. making it into a few finals here and there, but I've never won so it was great to get this win!" Parsons expressed.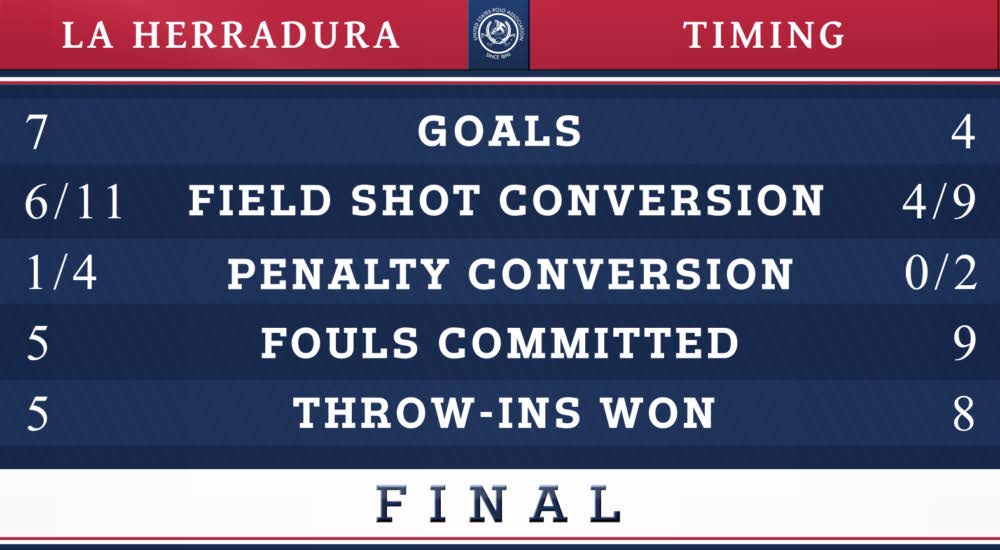 Gallery: All photos ©David Lominska
[ngg src="galleries" ids="1092″ display="basic_thumbnail" thumbnail_crop="0″]
*Mia Bray is a member of Team USPA. Team USPA is a USPA program designed to enhance and grow the sport of polo in the United States by identifying young, talented American players and providing mentored training and playing opportunities leading to a pool of higher rated amateur and pro players and the resultant giveback to the sport of polo.