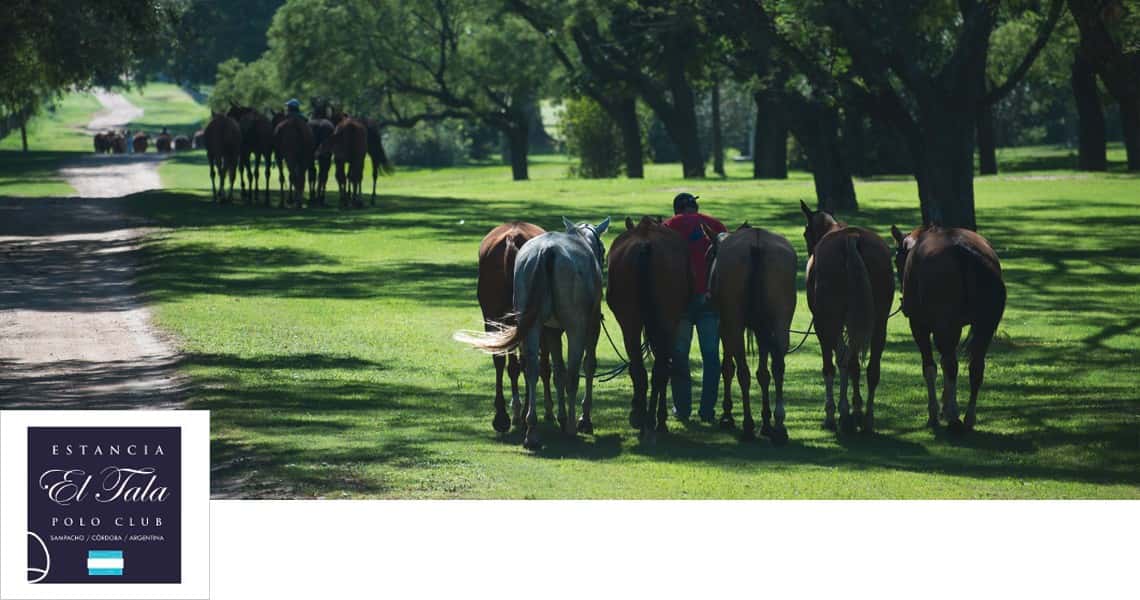 Welcome to Estancia El Tala, a traditional ranch in the heart of the Argentinean pampa, where you can spend your holidays enjoying polo, horseback riding and typical homemade food.
Estancia El Tala offers their guests the possibility to experience the real country life in Argentina, exploring their traditions and polo lifestyle. Juan Manuel Gonzalez and his wife, Ana Palma Lasmartres, are passionate about polo and will host you personally organizing polo clinics, high-level practices, matches and other activities. After polo sessions, it is time to relax. Cocktails (copetines), asados (barbecue), together with excellent Argentinean wine will be the excuse for fun polo players and visitors gatherings.
There are two annual tournaments at Estancia El Tala Polo Club.
Sampacho Polo Cup (10-12 hp), taking place on late January
Autumn Polo Cup (08 – 10 hp), taking place in March/April
International and local players participate in both tournaments. Well-known sponsors and artists also participate in most of their events creating a picturesque and colorful atmosphere.
Polo Programs
Both women and men are welcome to participate in the activities, starting from the age of 5. Tailor-made programs are designed taking into account the guests' needs. Feel free to contact the club and make your request for the "Polo Weekend" (2 nights/3 days), "Polo Week" (6 nights/7 days) or "Polo 15" (14 nights/15 days).

All polo programs take place under the guidance of Juan Manuel Gonzalez, an internationally well-known polo player (4/5 hp). These programs are available from October until the end of April.

Accommodation
The cozy guesthouse is surrounded by an ancient grove. It has three double rooms, two bathrooms and a comfortable living room with a fireplace. Enjoy having breakfast in the backyard listening to the morning birds singing. Take your time to drink some "mate" and read a book before the polo activities begin.
Estancia El Tala is located in Córdoba, in the middle of Argentina. It is situated 580 km west from Buenos Aires and 450 km east from Mendoza city. The nearest airport is located in San Luis City and there are daily flights from Buenos Aires. The estancia is one-hour ride from the airport.