Each team securing a strong win in their respective semifinals, number one seed Aiken Polo Club (Summer Kneece, Sophie Grant, Robyn Leitner, Reagan Leitner) and two-time defending champions Maryland Polo Club (Kylie Beard, Sierra Blevins, Jordan Peterson) entered the Girls' National Interscholastic Championship (GNIS) Final with confidence after their first games. Receiving a bye into the semifinals, Aiken made their tournament debut with a decisive victory while Maryland made an equally strong showing in their opening game at New Bridge Polo & Country Club (Aiken, South Carolina). Putting Maryland on the defensive from the first chukker, Aiken extended their lead throughout the game to claim their first national championship win 17-5, denying their opponents a tenth tournament title.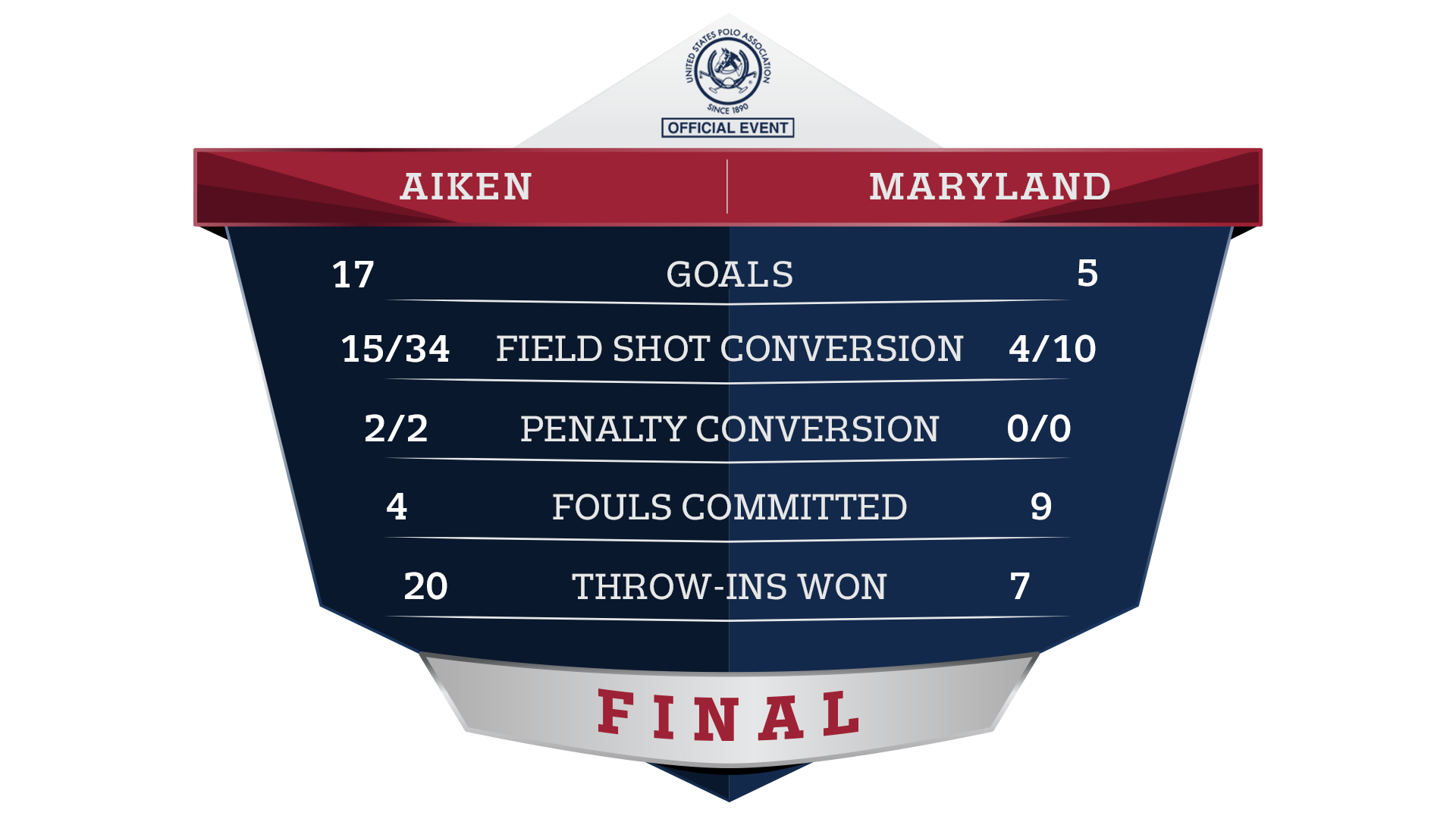 "Having the opportunity to come to Aiken [South Carolina] and lead such a young team and the new Aiken Youth Polo organization to a national title is especially gratifying. I'm so thankful to have such a supportive coach [Tiger Kneece], teammates and family to finish this exciting journey of high school arena polo." – Sophie Grant
The final took place on the evening of Saturday, May 22, as both teams competed for the most important trophy of their interscholastic career. Claiming the first three goals of the game, Aiken commanded the scoreboard from the opening throw in as Maryland Polo Club's Sierra Blevins added one to the tally. Holding Maryland scoreless throughout the second chukker, Aiken continued to gain offensive momentum, Kneece adding three consecutive goals for her team.
"Our strategy was to be aggressive, communicate and really take our time with the ball," Kneece said. Following an impressive display of team play and skill, Aiken Polo Club moved into halftime with a comfortable 8-1 lead.
Hammering in her sixth goal to open the second half, Kneece was met by strong resistance from Peterson who fired back with four goals for Maryland, including a two-pointer. Contributing a series of goals to the scoreboard, Aiken remained solid and consistently strong throughout the remainder of the game. "I think the order of our horses really helped!" Robyn Leitner commented. "I started in the second chukker on Miley who is my favorite to play and a great mare to get me into the start of the game. I ended on Shorty in the fourth, who can be a little strong at times, but he played well for me having already played one chukker."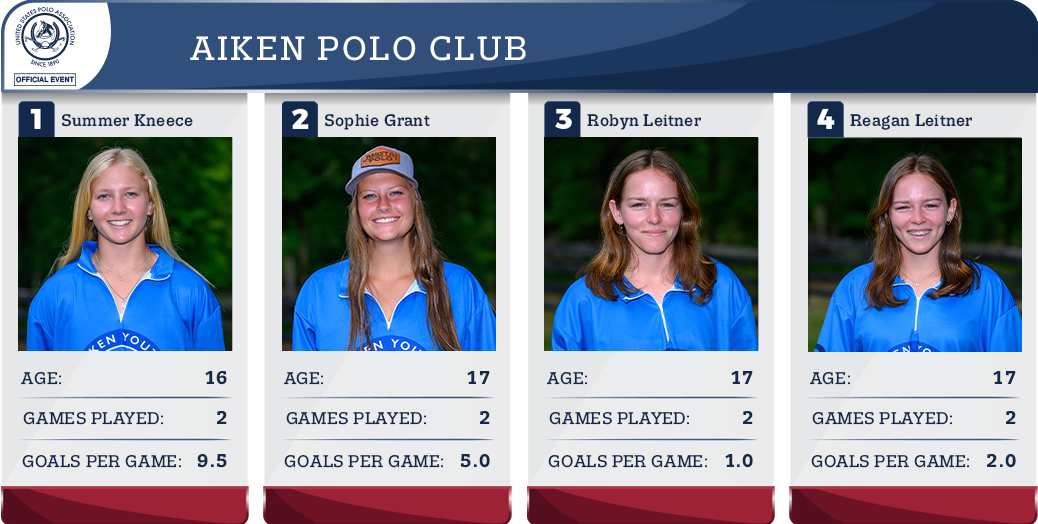 Although having a seven-goal lead entering the final chukker, Aiken was relentless in their pursuit of their first national title with Kneece picking up three additional goals. Highly effective
in the back, Grant closed out the final with a pair of goals to sweep another decisive victory 17-5. Capping off a great evening of polo, the team extended the celebration to the New Bridge clubhouse where they enjoyed a team dinner.
"We wanted to keep the game as open as possible and play to the strength of each teammate," Grant said about her team's strategy. "Summer [Kneece] is very good offensively so we wanted to keep her up in front receiving passes and scoring goals. Robyn and Reagan [Leitner] are really good in the middle and work hard taking the man. I thought I could make the greatest contribution by playing back. I planned to shut down Maryland's offense and hit backshots and passes up to my teammates, trusting that they would score the goals."
"Another strategy was our lineups for the throw ins," Grant continued. "When we were on the good side of the throw in, I would line up next to the umpire. This positioning would let me jump on the ball and get the play going towards our goal."
Splitting a position with her identical twin sister, Robyn Leitner was proud of what the girls had accomplished together. "This win was a huge compliment for my team and represented Aiken's youth players," Robyn Leitner said. "Being a part of such a great team who made Aiken's first GNIS trophy happen was an honor. I am going to miss playing with Sophie [Grant] next year!"
Claiming her fourth Girls' National Interscholastic Championship, Grant felt that this win was particularly special as team captain. "I won the first three championships (2019, 2018, 2016) with my two older sisters, Abbie and Maddie, on Maryland," Grant said. "But having the opportunity to come to Aiken [South Carolina] and lead such a young team and the new Aiken Youth Polo organization to a national title is especially gratifying. I'm so thankful to have such a supportive coach, teammates and family to finish this exciting journey of high school arena polo."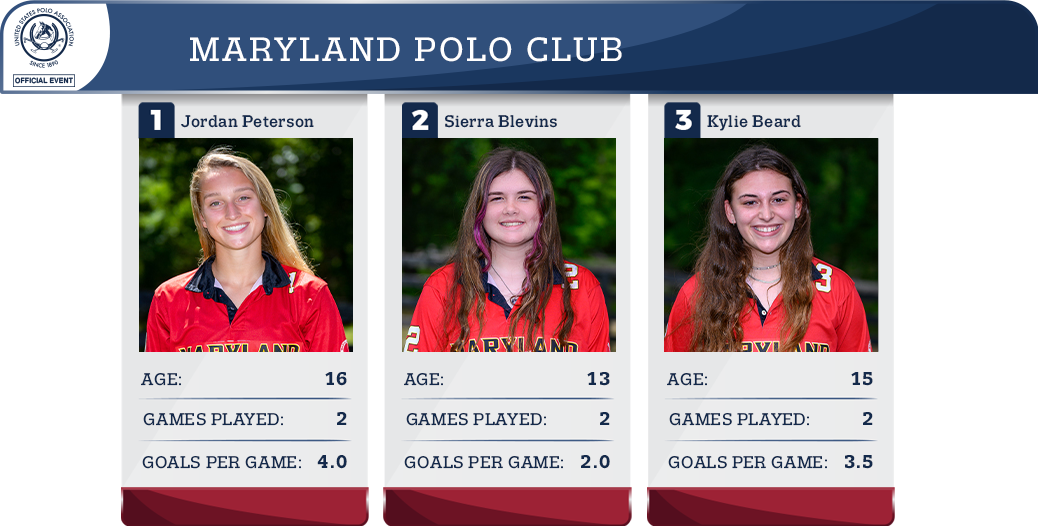 All Stars included Summer Kneece (Aiken Polo Club), Sophie Grant (Aiken Polo Club), Saralyn Painter (Gardnertown Polo Club) and Jordan Peterson (Maryland Polo Club). Kylie Beard (Maryland Polo Club) received the Sportsmanship Award.
As this was the first year the Girls' National Interscholastic Championship was livestreamed, fans had a unique opportunity to watch interscholastic arena polo on Global Polo TV. "I was so thankful the games were livestreamed as my brothers, sisters and other family members were able to watch from their workplace," Reagan Leitner shared. "I had grandparents in Pennsylvania and Arizona who watched and my sisters in Virginia and Scotland were able to give me pointers at halftime," Grant added.
Holding an impressive 7-goal women's arena handicap, Grant recently changed from competing with her longtime Maryland team to joining Aiken last year. "In 2020 I moved to Aiken to
become a more well-rounded player and specifically to improve my outdoor polo," Grant said. "I also thought it was a great opportunity to join Tiger Kneece's young Aiken Youth Polo (AYP) interscholastic team. In our 2020 regional final, AYP played against Maryland and for me that was mentally harder than this final because I had to play against my good friend and former teammate Catie Stueck, with whom I had won three national titles."
Summer Kneece (Aiken Polo Club) received the Horsemanship Award. "Winning the championship means so much because our team has been working for this moment for so long," Kneece revealed. "We prepared by having many practices with our coach, my dad, and we've also been playing grass polo which helped us." "It was a great feeling to coach my daughter in this championship tournament," coach Tiger Kneece said. "We started this journey together four years ago and it's a dream come true." Chunky Monkey, owned by UVA, received Best Playing Pony honors while UVA 1 was awarded Best Playing String.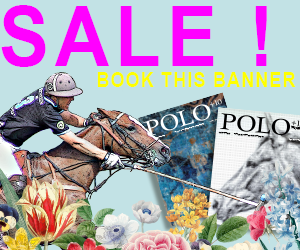 Ending her senior year on a high note, Grant is looking forward to continuing to playing polo in South Carolina. "For the next year I have decided to be based in Aiken," Grant revealed. "I've made many friends and have found Aiken to be a very supportive environment for young players. I have some green horses to train as well and I'm excited to see where that takes me."
The Intercollegiate/Interscholastic (I/I) staff would like to thank the wonderful hosts at New Bridge Polo & Country Club, Raza Kazmi, Aiken Youth Polo and Tiger Kneece. The horses were graciously provided by Aiken Youth Polo, DI Polo, Berube Polo, and UVA. They would also like to thank the umpires including Tom Wisehart, John Bianco, Ronnie Hayes, Brent Marikatani and Bradley Biddle.
Images: ©Larry Johnson
[ngg src="galleries" ids="1150″ display="basic_thumbnail" thumbnail_crop="0″]