With players from six different nations, this year's the 11th IceGuerilla Beach Polo World Masters 2022 by Berformance Group attracted more fans than ever to the Baltic Sea beach.
Fast-paced polo, around 50 noble Argentinean horses and a dreamlike beach setting including a historic lighthouse: this year, too, this unbeatable combination made the eyes of visitors and players light up. As part of the eleventh IceGuerilla Beach Polo World Masters by Berformance Group, the Baltic Sea beach at Warnemünde was transformed into an open-air arena in overcast but dry late summer weather.
Eight teams – some of them international, with players from countries such as France, Japan, Iran and Spain – played thrilling matches over three days and delighted the growing Masters fan community. No wonder that organizer Matthias Ludwig, CEO of Polo Riviera Germany, drew an all-round positive conclusion at the end of the tournament: "I am really pleased that our event has not only been able to establish itself enormously with the public over the past eleven years, but has also become increasingly international. The diversity of sponsors and partners also impressively underlines this trend. I am also glad that nothing happened to the players or horses. 
In addition to the sporting aspect, according to Matthias Ludwig, the importance of the Beach Polo World Masters as an economic factor for the region and tourism should also be emphasised. International flair was provided by the world-famous DJ Tomekk, who heated up the guests at the opening ceremony on Friday evening in the "DaCapo" club. One of the highlights of the IceGuerilla Players Night on Saturday in the VIP Lounge was the auction of a PopArt painting by polo player Sarah Schretzmair, which found a new owner for 5100 euros. The actress Mariella Ahrens, the 22-time German polo champion Alexander Schwarz and Jan-Erick Frank ("The Voice Of Polo") took turns as the charming and competent presenters of the three polo days in Warnemünde.  
At the end of the hotly contested matches, the women's team "Folietec AG" with Leah Kawamoto from Japan and the German European Champion Marie Luise Haupt won the tournament. In the men's competition, Leopold Ludorf from France and Ken Kawamoto from Japan from the "SGB/BSA" team came out on top. What remains is the memory of three top-class days of beach polo – and the great anticipation of a new edition in 2023.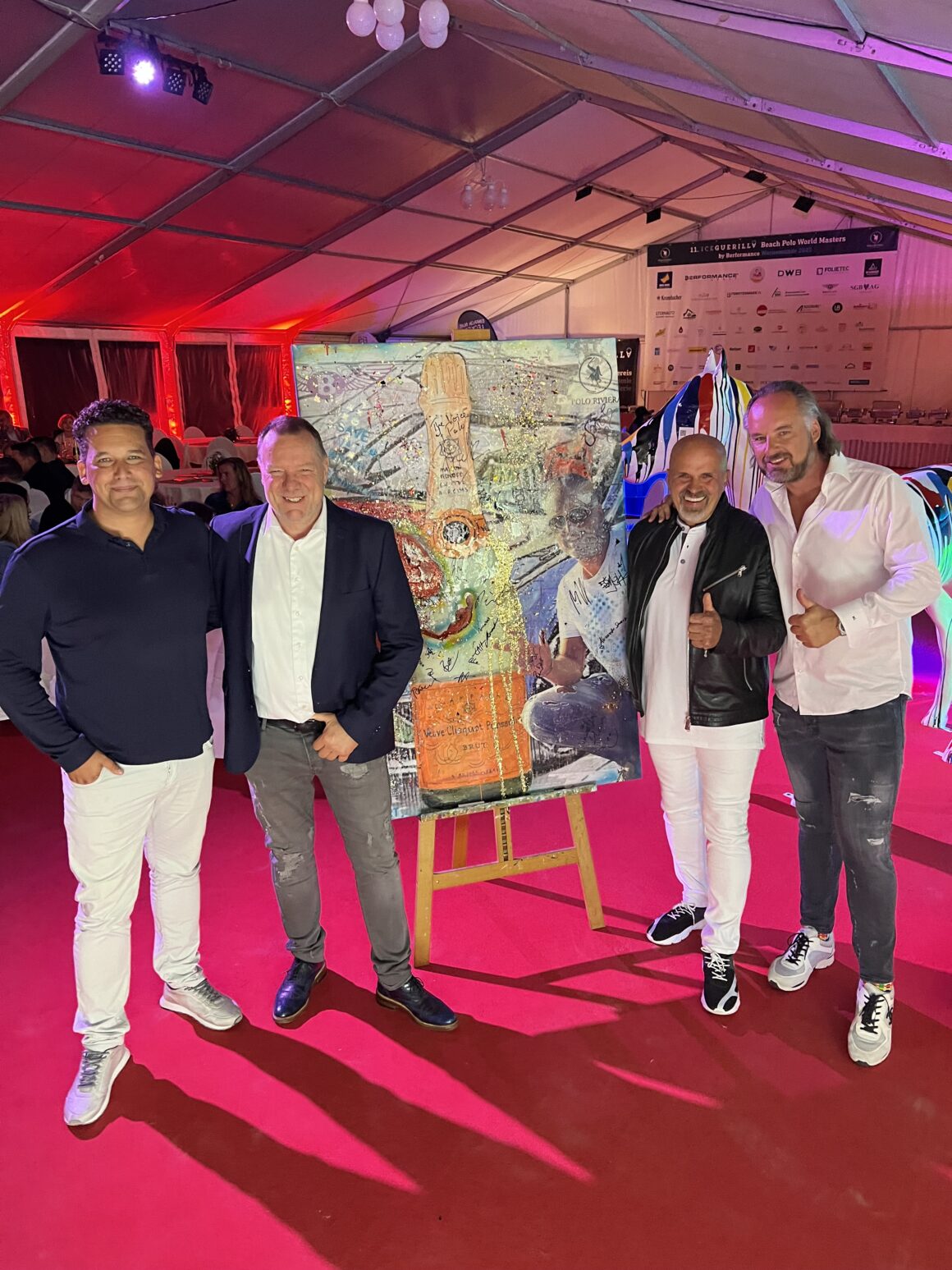 The painting was auctioned off for charity. Conrad Kirchner, Falk Rösler, Andreas Best (from left to right, all Arge Haus) and
CEO Polo Riviera Germany Matthias Ludwig.
RANKING
Ladies Cup
1. Folietec AG
Leah Kawamoto
Marie Luise Haupt
2. Berformance Ladies 
Mona Scharf
Steffi Deistler
3. ARGE-HAUS
Aziza Ghane
 Sarah Schretzmair
4. KÜHNE Pool & Wellness AG
Bea Pfister
Anke Pfister
Annabell Kreiter
Paulina Kreiter
Gentlemen's Cup
1. SGB Sicherheitsgruppe Berlin / BSA Brandschaden Asbestsanierung GmbH
Ken Kawamoto
Leopold Ludorf
2. IceGuerilla/Polar Twist & Bentley Service Krauthahn Berlin
Philipp Sommer
Daniel Deistler
3. Berformance
Oliver Sommer
Hendrik Deistler
4. DWB Holding GmbH
Rainer Reimann
Steffen Lange
Alexander Ludorf