For the first time in Dubai, Middle East's homegrown online marketplace, Noon
.com, is sponsoring a Polo Tournament
Dubai, United Arab Emirates – December 27, 2020:
The highly-anticipated first edition of Noon Polo Cup 2021, 12-Goal Handicap, will kick-off on the second week of January 2021, culminating with a trophy ceremony on January 15. The Polo tournament will be participated by the best and highly respected Polo players in the region.
Sponsored by Noon
.com, Middle East's premier E-commerce platform, the prestigious 'Sport of Kings' will significantly promote Middle East's premier online retailer to Polo Patrons and the sports community. Noon Polo Cup 2021 will conclude on January 15, Friday at 2 PM. The Picnic Area will be open to the public for free, following social distancing and safety guidelines. At the same time, Palermo terrace will host Asado Brunch at AED 245 Soft Package and AED 425 House Package with the best view of the Polo match. Noon will be giving away exciting prizes for the early car parkers and participants of the scavenger hunt. Spectators can take part in the game of fashion to get a chance to win Noon Best Dressed Lady and Gentleman.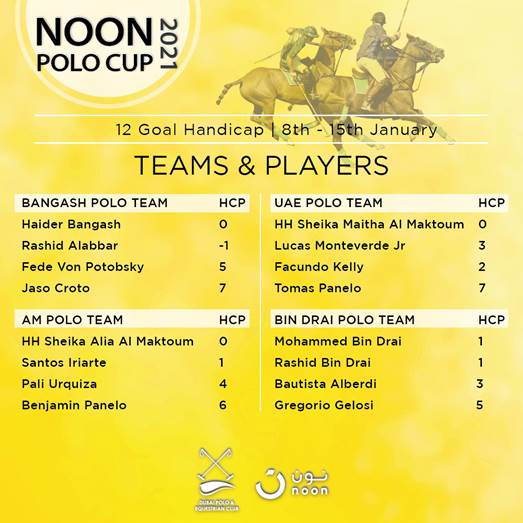 Dubai Polo and Equestrian Club is open daily with Restaurants- Dubai Polo Bar & Sella, the Riding School, Polo Academy, Spa, and Events Venue. For bookings and enquiries, contact +971 3618111 or
info@poloclubdubai.com
.
Follow @poloclubdubai on social media and stay up to date on Dubai Polo & Equestrian Club's latest happenings.